FRANCESCO DELL'ORTO FEATURE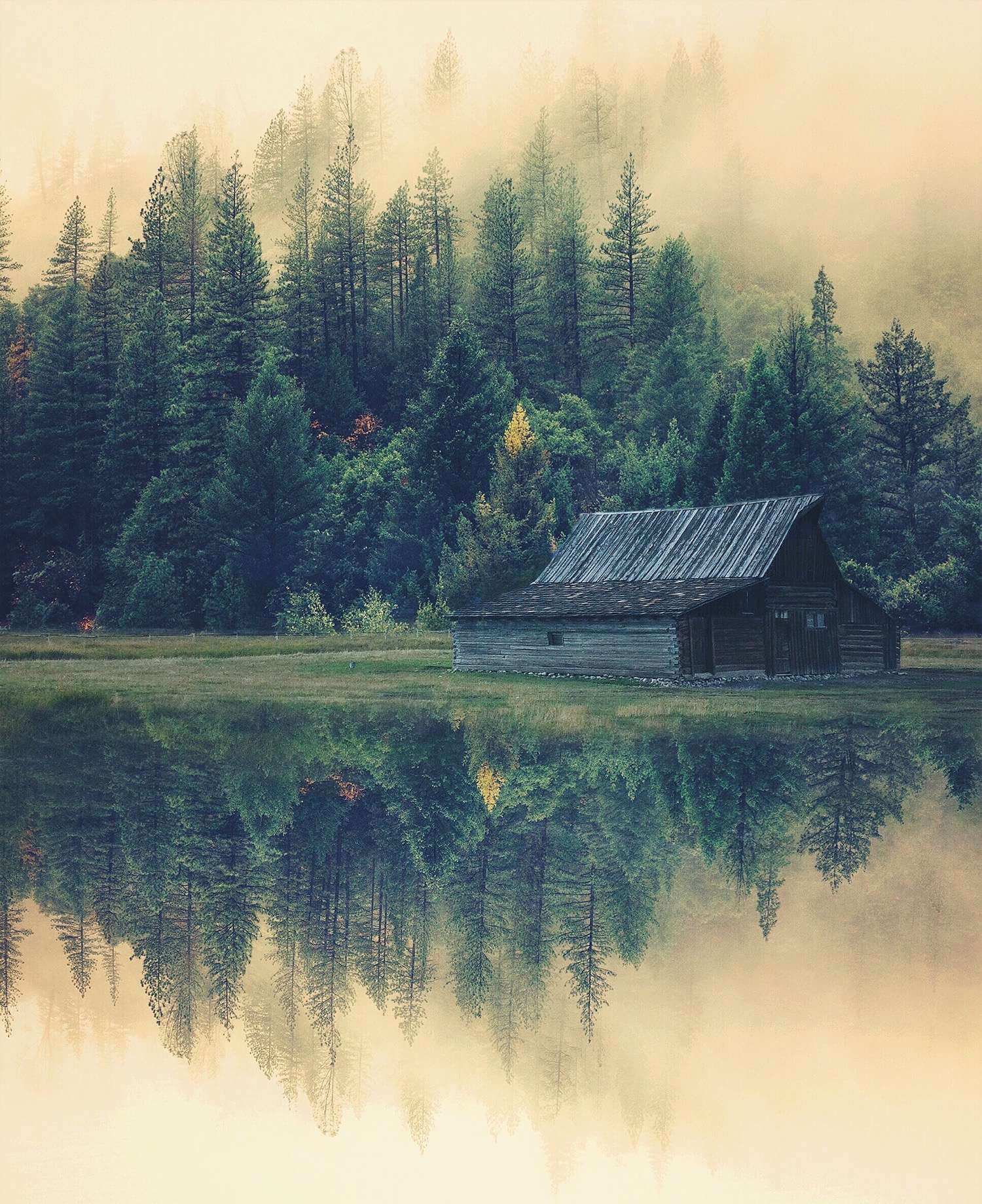 Francesco Dell'Orto (@eleathar) creates a whirlwind of wildly entertaining and fiercely cool pieces. Using multiple photos - many of his own and some from resources such as the @mexturescollective (like the photo above originally shot by @sean_in_307) - Francesco blends and molds and constructs incredible abstract works and fantastical landscapes. His Mextures formulas are consistently crafted with great care and are always worth the import. We had a digital sit-down with Francesco recently and learned heaps about him and his work. Read along!
My name is Francesco Dell'Orto and I live in Italy. I'm originally from Abruzzo, a mountainous region near Rome and I lived in Tuscany for several years. I have a daughter named Aurora.
I owe my love for the mountains, woods, and nature to my birthplace where I cultivated my passion for photography and visual design. These activities are only marginal in my profession, but I improved my skills studying and learning in my free time, having a natural attraction for those topics.
I consider myself a very emotive and sensitive person. I always feel strong, physical sensations when I like something. A song, picture, or movie can often bring me to tears if it catches my imagination, because I tend to visualize my self in those situations. This, together with an endless love for fantasy themes, could help to explain my vivid imagination and the role it plays in my visual work.
WHAT WAS IT THAT FIRST ATTRACTED YOU TO PHOTOGRAPHY AND CREATING IN GENERAL?
My love for photography was born about 12 years ago and mainly driven by my passion for technology. I took my first steps with a 1 megapixel digital compact camera (I know. It is funny thinking of it now.) and shortly after that my simple curiosity became a love for this discipline.
My passion for editing is fairly recent and has pretty much coincided with my discovery of Mextures and the awesome community behind it.
THE COMPOSITE WORK THAT YOU DO REQUIRES A GREAT DEAL OF CREATIVITY AMONG OTHER THINGS. WHERE DOES THAT DESIRE TO CREATE COME FROM?
It all originates from my passion for photography. From the very beginning I have loved the capacity to speak in an universal language and to tell a whole story in a single shot. It's not just a reproduction of reality but rather an interpretation of it.
Great photography has the incredible power of producing strong emotions and moving people in a very effective way. It is an alchemy of composition, light, colors and meanings that makes a shot stand out from the others.
I like to take my own shots of course, but recently I discovered the possibility to craft imaginary places from existing ones - to add my very own point of view and tell my own story. In other words, I've found a way share my inner world through my creations.
WHAT HAS BEEN THE MOST HELPFUL THING THAT YOU'VE LEARNED SO FAR AT THIS POINT IN YOUR PHOTOGRAPHY?
There are many, but if I have to choose one I'd say that being curious is the most important thing.
First of all, a curiosity for learning.
I started shooting with a compact camera and lately I shoot almost entirely with my phone camera, but stepping into a world of reflex has been invaluable in my path. To deepen the technique behind photography - to understand concepts like exposure, aperture, shutter speed or depth of field - has been fundamental to me. Shooting in manual mode using my own reflexes has been an exceptional training ground to internalize this knowledge.
After that, curiosity to experiment and to always try new things. I always have had a deep admiration for those who can find a fresh perspective shooting subjects that have been captured a million times such as famous monuments.
And, of photography, I always liked that a step aside can make a world of difference in a shot. So I always take many shots from many different points of view.
All of above is valid of course for editing also. To experiment is the best way to come up with something interesting!
WITH THAT BEING SAID, WHAT DOES YOUR EDITING PROCESS GENERALLY LOOK LIKE FROM START TO FINISH?
All my edits are done entirely on iOS devices.
My editing process usually starts in my mind. I look at shots I like in search of inspiration, trying to imagine how they could blend together and what message they can communicate. It's not rare for me to awake in the middle of the night thinking of how I could match two different images I had seen the evening before!
I usually look at pictures from different points of view, even turning them upside down because it gives you an entirely new perspectives.
As for the apps, I use Union in the initial stage to do the first rough blending. I sometimes use other apps like Alien Sky or Reflect to add new elements that were not present in the original shots.
Mextures represents an irreplaceable step of my creative process since it allows me to transform the raw blending in to something credible and realistic through the apposition of light and texture overlays. The possibility to add as many layers as you want and to tweak the opacity and the orientation of each filter allows endless options to create the final result.
When finished, I usually involve some of my dearest Instagram friends to preview my edit - mainly to verify that the concept is clear and to determine which of the different versions I've created works best.
CAN YOU TALK A BIT ABOUT HOW YOU TYPICALLY USE MEXTURES IN YOUR PROCESS?
For the most part I have a double kind of use for Mextures. For single shots, usually mine, I use it to lighten or darken specific parts of the image and to emphasize the subject or to give a particular mood.
When it comes to blending, Mextures is crucial to smoothing out several shots like they were different parts of the same capture: I'm talking about light, textures, temperature and so on.
In my first edits, I usually started adding textures from my preferred packs and saving them as a formula. Lately I have been starting with one of my formulas (I have crafted more than 500 of them and I select one depending on the atmosphere I want to create), but I always end up doing some kind of personalization! In fact, when I select a premade formula of mine I always turn off every single layer to see how they affect the final result or add new layers if it lacks something.
My favorite overlays are from the Intensity and Grunge packs, but I often use stuff from the Radiance and Landscape Enhance packs: these are the textures that impact the coloration most. And then I use the light and the grain in my edits to give them that fairytale aspect. I usually do the last refinements with the X-film pack and I also like to do a lot of adjustments through the film presets and the exposure, contrast and temperature polishing tools.
WOULD YOU MIND SHARING A FEW OF YOUR FORMULAS WITH THE MEXTURES COMMUNITY?
Of course I can! I owe so much to the Mextures community for my artistic evolution!
These five are among my preferred formulas so far:
AARON'S EPIC JOURNEY - ICTPFLG - An 11-layer formula which matches a nice lower darkness with a warm central glow for a nice fairytale atmosphere.
THE WOODS WITHIN - DWTQXZH - A 7- layer formula with warm tones and a very grainy and textured background. Ideal for editing double exposures.
PRIVILEGED VIEW - TCHXHIV - A 6-layer formula with cold, desaturated tones that is well suited for architectural shots.
LIBERTY - MFSNHKS - A 7-layer formula deep with cold tones but rich in textures. Perfect for glacial edits.
AWAKENING - SNLSMJD - A 6-layer formula with dark, greenish tones for a creepy and mysterious atmosphere.
IS THERE ANYTHING PARTICULARLY UNIQUE YOU FEEL LIKE MEXTURES OFFERS TO YOUR EDITING PROCESS?
The main unique value of Mextures comes from its incredible versatility and customizability. There are endless ways to personalize any given image, playing with hundreds of textures, choosing their order, setting the blend mode, the opacity and the orientation.
Being able to save these customizations as formulas is invaluable and allows me to continuously evolve my style when editing a picture.
The other exceptional Mextures resource is represented by its awesome community. to be able to share formulas with other users and gain inspiration from very talented people to create more of them, is really what helped me to improve day after day.
WHAT HAVE YOU FOUND TENDS TO INFLUENCE THE PIECES YOU CREATE?
I like to think of my edits like fragments of my soul that I expose to others and I love to know others as well through what they post. Images and editing choices can reveal way more of people than meeting them in person!
Cinema, music, art, poetry - all of that feeds my imagination and becomes part of my inner world and I always tend to reflect this world somehow in my edits.
Music in particular has a great role in generating my deepest emotions. I particularly like to hear it alone, through my over-ear headphones while closing my eyes and letting my imagination be free to run allowing me to relive situations or create new ones. I make a sort of videoclip in my mind every time I hear music that way!
WHO ARE SOME OF THE PEOPLE THAT HAVE MOST INSPIRED YOUR PHOTOGRAPHY AND CREATIVE PROCESS?
The Instagram and Mextures communities really opened a new world to me. While I was posting my first unripe edits of my own shots, I soon started to get in touch with fantastic people who were able to support and inspire me to an incredible extent with their awesome work and encouragement.
I recognize that I have a creative mind already, but the way that the interaction with other people has helped me to mature and to develop a style of my own is really invaluable.
As for photography I have found the greatest inspiration from my friend @bjorg_elise. She is an incredible photographer who captures the beautiful landscapes where she lives with unbelievable skill. Many of her shots portray the Time of Darkness, a period during which the sun doesn't rise at all and there is very little light. She succeeds in creating such magical scenes in her work that really move me in a deep manner and make my mind expand.
I want to mention also @kateessmith, @_cantus_ and @barctic78, whose work is a great point of reference.
As for editing, I owe very much to my friends @lizardneedsfood_badly and @boco_blondie who are both amazing artists with a great eye for photography and a creative mind for editing. They preview most of my edits and help me a lot in finalizing my work with their suggestions. In addition, they inspired me in creating a whole series of formulas, the colder ones by @lizardneedsfood_badly, while the warmer softer tones come from @boco_blondie. Speaking of formulas, I cannot forget the dear @merderich who taught me to play with dark tones!
When I think of people that have widened my visual horizons, I could never overlook @israelsanchez91, @lulutanata, @emmasancez, @nak_bali_, @forwardtrends, @ionsounds, @guardiansoftrance and @gosleep_. That's only mentioning a few of them but I could add many others.
Do yourself a favor and have a look at more of Francesco's work here!